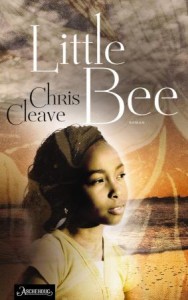 Contributors: Flosnik, Anne.
Year/Format: 2009, eAudiobook,
Tantor Media
Little Bee is about a Nigerian refugee. There are two main characters telling her story: herself and a British woman, Sarah. Each has a chapter and the chapters intertwine sequentially.
Little Bee is a sixteen year old girl who learned English during her two year stay in a detention centre at the outskirts of London. She is a character you get to love and hold dear, unforgettably colourful and strong. She is constantly describing situations as if she were talking "to the girls back home" who would always need special descriptions and additional explanations at any given point during the story. She also thinks of how she can commit suicide in every of the places she finds herself, in case "the men" would come and take her. Her story is so sad it stabs you to the bone, but in the same time you keep on smiling. This fascinating girl is a pillar of strength and courage. Her inner beauty glows like an aura around her. I wished her story would never end, I would probably listen to it again shortly, I have learned so much.
Sarah is a diluted character next to Little Bee. She is weak and mundane but not at the core. Little Bee's role in Sarah's life is enormous. She saves Sarah from platitude, she gives her purpose, a life worth living. The irony is that the main plot stands on Sarah' having saved Little Bee's life…
The metaphor "trapped in the colour grey" comes from this book.
The male figures are weak individuals wishing to have been able to surpass their condition but quite pale in comparison to the female characters. The little Batman Charlie is their hope. This approach is quite surprising given that the author is a man.
I've seen reviews with complaints, but no one was actually talking about the audiobook which I found fascinating.
I was happy for the bookmark feature as this book has tremendously beautiful quotes that I wanted to remember. It is well read and well written. It generates feelings, emotions; it makes you laugh, it makes you cry. If this is not great literature then I do not know what is.
"Then the robin shook its worm and swallowed its life from the light into darkness, with the quick indifference of a god."
"That is a good trick about this world, no one likes each other but everyone likes U2"
"The emotions flipped across upon his face like a television flipped impatiently between channels."
"One of the psychiatrists she said to me: 'Psychiatry in this place is like serving an inflight meal in the middle of a plane crash; if I wanted to make you well as a doctor I should be giving you a parachute, not a cheese and pickle sandwich. To be well in your mind you have first to be free'…"
<< Cleave was born in London in 1973, brought up in Cameroon and Buckinghamshire, and educated at Balliol College, Oxford where he studied Psychology. He lives in the United Kingdom with his wife and three children.
Cleave's debut novel Incendiary was published in twenty countries and has been adapted into a feature film starring Michelle Williams and Ewan McGregor. The novel won a 2006 Somerset Maugham Award and was shortlisted for the 2006 Commonwealth Writers' Prize. The audio book version was read by Australian actor, Susan Lyons.
His second novel, The Other Hand, was released in August 2008 and was described as "A powerful piece of art… shocking, exciting and deeply affecting… superb" by The Independent. It has been shortlisted for the 2008 Costa Book Awards in the Novel category. Cleave was inspired to write The Other Hand from his childhood in West Africa. It was released in the US and Canada in January 2009 under the title Little Bee, and will be adapted into a film starring Nicole Kidman by Blossom Films in association with BBC Films.
Cleave is a columnist for The Guardian newspaper in London. From 2008 until 2010 he wrote a column for The Guardian entitled "Down with the kids".
Novels:
Incendiary (2005)
The Other Hand (UK title, Sceptre, August 2008)
Little Bee (USA/Canada title, Simon & Schuster, Doubleday, January 2009)
Gold (June 2012) >> (Wikipedia)