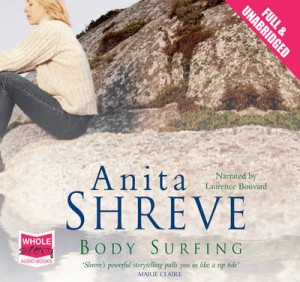 Read by: Lolita Davidovich
Published by: Hachette Audio
Year/Format: 2007, Audiobook CD, 7 sound discs (7.5 hr.)
"Anita Shreve (born 1946) is an American writer. The daughter of an airline pilot and a homemaker, she graduated from Dedham High School, attended Tufts University and began writing while working as a high school teacher in Reading MA. One of her first published stories, Past the Island, Drifting, (published in 1975) was awarded an O. Henry Prize in 1976.
Among other jobs, Shreve spent three years working as a journalist in Nairobi, Kenya. She also taught creative writing at Amherst College in the 1990s.The Pilot's Wife was selected for Oprah's Book Club in March 1999. Since then, Shreve's novels have sold millions of copies worldwide.
Her novel Resistance was turned into the 2003 movie with the same title Resistance, with Bill Paxton and Julia Ormond as the main characters.
She lives in Longmeadow, Massachusetts." (Wikipedia)
"Davidovich was born in London, Ontario (July 15, 1961), the daughter of immigrants from Yugoslavia. Her father was from Belgrade, the capital of Serbia, and her mother was from Slovenia; she spoke only Serbian during her early years. She studied at the Herbert Berghof Studio in New York.
She first received notice co-starring in Blaze (1989) with Paul Newman, (…) the title role of the burlesque performer Blaze Starr.
She later appeared in several episodes on the first season of the Showtime lesbian-themed television series, The L Word playing the character Francesca Wolff, and also appeared on an episode of CSI: Crime Scene Investigation in 2005." (Wikipedia)
The book is well read, Lolita's voice sounds young and beautiful, a pleasure to listen to.
The content of the book however, not my cup of tea: it's again one of those sappy meaningless dragging along summer reads that attract the masses, women in particular. It's not worse than so many best sellers out there, I admit it's actually far better, but still a not so extraordinary chick flick.
The whole drama is based on a scene that is not in the least outlined to be memorable, so when it's described again at the end, it kind of makes you squint: 'really?!'
Anita is wasting vast writing space to describe tables, rooms, and environment, so much so that you get the feeling that the characters dim out, becoming unimportant, none of them is vibrant, grabbing you for life (and I already had to Google the name of the main character, as I remembered Sarah, but it's actually Sydney Sklar).
The idea of a summer cottage (I have actually been on that New Hampshire beach and was wondering if that house really existed or if it's entirely the fruit of imagination) with an interesting history, the idea of a family saga to which a young woman coming from a broken home is attracted like a moth to a flame, the idea of a young woman having gone through three marital catastrophes, all sustaining ideas, but it does not feel enough, the characters float, and although I understand and applaud giving the reader the space of thought and imagination, it's not the case here. Other than pity for Mr. Edwards and his roses, some spark of 'this could be interesting' when listening to the last dialogue between Sydney and Mrs. Edwards, there is no character bond, you do not really root for anyone, Sydney is boring in the effort of portraying an extremely kind person, way too good to be true, thus becoming gullible and rather idiotic.
Anita's emotional touch is still there, just not to the extent of creating unbreakable bonds,  she is a writer with a solid reputation, but I would not mark this one as a success.