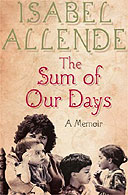 Title: The Sum of Our Days
Publisher: Harper Audio
Publication Date: 2008
Binding: Audio Book (9 CDs)
Read by: Blair Brown
"Bonnie Blair Brown (born April 23, 1947) is an American theater, film, and television actress. She has had a number of high profile roles, including a Tony Award-winning turn in the play Copenhagen on Broadway, as well as a run as the title character in the television comedy-drama The Days and Nights of Molly Dodd, which ran from 1987 to 1991. Brown currently plays Nina Sharp in the television series Fringe, which is broadcasted on Fox." (Wikipedia)
Blair does a great job reading this book: her voice is perfect for the character. There are a few minor misses here and there, where a sentence at the end of a chapter is read twice, but these instances are rare and easily forgotten. There is only one character speaking, the main character, who is also the narrator: very helpful details for an audio book; fake accents and voices are not there to bother, all is fluent.
I was quite sad when the audio book ended. I missed it for a few days afterwards.
For the content of the book please see the Book Review section.
If you wish to purchase this book from Amazon and support allwords.ca at no extra cost to you please click on the link below.