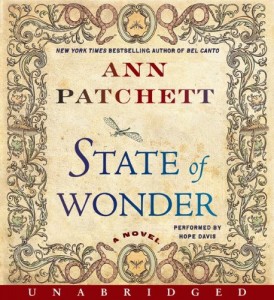 Narrated by Hope Davis
Published in audio by Harper Audio
Audio book length: 12 hour 25 min
"Hope Davis (born March 23, 1964) is an American actress. She has starred in more than 20 feature films, including About Schmidt, Arlington Road, Flatliners, Mumford, American Splendor, The Lodger and Next Stop Wonderland." (modified quote from Wikipedia)
Harper Audio did well by hiring her to read the book. She is not annoying, not trying funny accents, she has a decent voice that suits the main character, Marina. The voices of the other female characters are also beautifully interpreted. They are kept throughout, which is very important for an audio book. You could grasp the difference. It was a pleasure listening to her.
The content of the book  is reviewed in the Book Review section.
If you wish to purchase this book from Amazon and support allwords.ca at no extra cost to you please click on the link below.