Jennifer Weiner, 41 years of age, is a Jewish American writer, television producer, and former journalist. She lives in Pennsylvania. One of her books, "In Her Shoes", inspired the romantic comedy with the same title and Cameron Diaz as lead actress. "Then Came You" was published this year.
I am so eager to write about it that I can hardly contain my excitement. At first I thought it is a book about a new born baby and the struggles of motherhood, I wanted to know how it became famous in the women's fiction world. Not the case: there is a baby, but only at the end. The book is great. Written in what I call "Marian Keys" style, it presents everything through the eyes of four characters, women, who take their turn into telling their stories. The characters are young to middle age and each striking in a different way. They appear to have nothing in common until close to the very end, when they are connected and their lives are linked together.
"Then Came You" is a chick flick; a lovely one, well written, humorous, displaying tremendous common sense and ethics, meanwhile anchored in reality. The traits of the characters come from their actions and statements of their friends, or people close to them. The four ladies belong to different backgrounds; they have different personalities and unwavering moral grounds.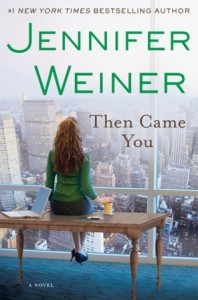 Jules is a student at Princeton, though far from the smug (like on a movie set with impeccable actors) world she is surrounded by. She carries on unfazed by the conformities she should abide, that she publically does not dismiss (she is ashamed by what happens to her father and changes his story, upset by what she uselessly did to save him, confused and seemingly embarrassed by her sexual choices). Her core is true to herself, and although she feels obliged to play as she is requested in the world she lives thanks to her intelligence, she does that temporarily and knowledgeably in order not to become a pariah.
Annie is a candid mother of two boys, young woman who married her high school sweetheart and did not go to college. She faces poverty and struggles. She tries to do what she can – given the tools she was provided with and the confines she has accepted. She lacks the mean gene, and even though she observes her sister's hypocrisy and the injustice that generally governs the world, she does not give in, she stays kind and gentle and lives by an inner confidence that her life is the one she has chosen.
India is the glamorous one. She comes from poverty and her past is only discovered close to the end of her story. She is the woman who treasures her body as her only asset and all she cares about is money and financial security. Through her eyes we discover how rich women live and we enjoy with her all the pampering, the expensive clothes and closets, the restaurants and delicious wonders a woman with money can enjoy. Gold digger, trophy wife, woman who immediately sees and ceases her chance, India is the woman you cannot bring yourself to hate; because when she talks about her two designer suits bought in discount shops that she rotates, and her bartering with the dentist and most of her clients (she has her small business), you feel for her, you want her no to have to do that anymore, you want her to succeed.
Bettina is the rich daughter who does not live as such. Her character is strong and untarnished, her morals are intact and she acts in the spirit of right and wrong. You come to admire her as although she cannot find her place in the world around her (her mother has left, her father has been alone and miserable, her brothers ignore her, she has no friends, she deems herself as socially inept) she goes on with her struggles. She gets a job and tries normality, she is aware of her inadequate taste in clothing but she does not change anything, she sees the ridicule surrounding her and she accepts it as inevitable. She thinks she is plain and cannot believe her happiness when she gets a boyfriend; she is beautiful by trying to convince us she is nothing but…
I do not want to reveal too much, the plot should come as a surprise so that you can enjoy it as I did. The book is an easy read with light but enticing language that flows charmingly. You know nothing is wrong with it because you do not notice its passage, you are all of a sudden close to the end and all you care about is that it will end and all this new world you have been wrapped around in will go away. Jennifer resolves each entanglement creatively and tenderly. The outcome kept me smiling for hours later as I could not have done better. I will forget about this book most probably soon enough, however, the smile will stay, and that is all that matters in the end.
If you wish to purchase this book from Amazon and support allwords.ca at no extra cost to you please click on the link below.