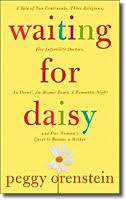 << Peggy Orenstein (born November 1961 in Minneapolis, Minnesota) is the author of the New York Times best-selling memoir, Waiting for Daisy: A Tale of Two Continents, Three Religions, Five Infertility Doctors, An Oscar, an Atomic Bomb, A Romantic Night, and One Woman's Quest to Become a Mother (Bloomsbury).
Previous books include, Flux: Women on Sex, Work, Kids, Love and Life in a Half-Changed World (Doubleday/Anchor) and the best-selling SchoolGirls: Young Women, Self-Esteem and the Confidence Gap (Doubleday/Anchor). A contributing writer for the New York Times Magazine, Orenstein has also written for such publications as The Los Angeles Times, USA Today, Vogue Magazine, Elle Magazine, Discover Magazine, More, Mother Jones Magazine, Salon.com, O, The Oprah Magazine, and The New Yorker, and has contributed commentaries to National Public Radio's All Things Considered.
Ms. Orenstein earned her bachelor's degree from Oberlin College in 1983. She began her career in New York City, as an Associate Editor at Esquire Magazine. She subsequently served as Senior Editor at Manhattan, inc. magazine and founding Senior Editor of 7 Days New York before moving to San Francisco to become Managing Editor of Mother Jones. She left that post to write full time in 1991.
Orenstein lives in the San Francisco Bay Area with her husband, Academy Award-winning filmmaker Steven Okazaki and their daughter, Daisy Tomoko (July 23, 2003).
"Waiting for Daisy" was "a 2007 Kirkus Best Book, a New York Times Best Seller, a Seattle Post-Intelligencer Top 10 Book of 2007 and the winner of the Books For a Better Life Award." "Orenstein was recognized for her "Outstanding Coverage of Family Diversity," by the Council on Contemporary Families and has been awarded fellowships from the United States-Japan Foundation and the Asian Cultural Council."
Her most recent work, Cinderella Ate My Daughter examines the effect of the 'girlie-girl' culture on young girls. >> (Wikipedia)
Waiting for Daisy is a wonderfully written book that does not belong only into the "infertility" category. The trouble is that everyone whom I showed it to had the same reaction: screened it out as being a scientific book about not being able to give birth. And it really isn't. Not just that. It is a funny, witty, well written book about one's quest to becoming a mother, offering real facts about real issues. There is research besides the story and one should appreciate that, in my eyes there is nothing worse than a writer who misleads the reader by offering fake definitions or made up facts; I have discarded all such writers and never touched their books again: they have insulted my intelligence. The cover is misleading. The book is non-fiction, but not boring, pathetic, poorly written or lacking artistic elements like many non-fiction books are.
I learned a lot from Waiting for Daisy. I laughed, I cried, I hoped, I was disappointed. It's not all about becoming a mother. It's also about how marriage is affected when a couple is unsuccessful at procreating, the imminent danger of losing romance often resulting into breakup. When sex becomes a scientific ruthless business and your partner a machinery repeatedly failing to produce, it's hard to remember the passion, you live with the grudge of constant disappointment; your one-track mind has no room for anything else.
Peggy beautifully blends intercultural elements and you've got to laugh just thinking at the almost impossible reunion between a Japanese man and a Jewish woman. But they make it work. And you become more knowledgeable about Japan (the author goes there for work to interview women over 30 who do not want to have a family or Hiroshima survivors), some of its customs, some of the Japanese mentality and yes, even words.
Last but not least international adoption is touched upon, with all its bureaucratic meanders and borderline ridiculous selection criteria. It's tragic and yet laughable that it all boils down to a functionary with limited understanding, little work ethics, or worse, some sort of resentment.
I loved the book and I hope more readers out there will give it the attention it deserves.
If you intend to purchase the book from Amazon and support www.allwords.ca at no extra cost to you click on the image below.