81 min – Documentary – 15 March 2012 (Denmark)
I resisted watching this documentary. Not because I do not love sushi. But 81 minutes of talking about sushi, I had to have some activity lined up for side watching, just like I do with Fifth Gear whose drivers have the most boring and/or irritating voices I have ever heard, no matter how good the shows. I digress. To my shock not only did I put aside everything else I was doing soon after the documentary started, but I got quite emotional and was truly sad when it ended.
Jiro is this 85 year old who has two sons and owns a sushi place underground, in a subway passage in Tokyo. So far so good. Big deal. Well, he is the oldest chef to have gotten a three star Michelin review, also becoming a Guinness book record.
"Jiro Ono (Japan, b. 27 October 1925), owner and chef of sushi restaurant 'Sukiyabashi Jiro´ in Tokyo, Japan, was first awarded as a three star chef in the Michelin Guide Tokyo 2008 when he was 82 years old. At the age of 83, he is the world´s oldest Michelin three star chef. The small basement restaurant does not have a menu.   They do not accept payment by credit cards, and the price of the set course starts from 27,000 yen (£188).   Currently, the restaurant is fully booked for 3 months. "(Guinness book)
At the time of the documentary they were already booked six months ahead, because they only have 10 seats. It is so clean you could lick the floors, and everything from greeting to mouth-watering always different sushi makes kings and queens who eat there feel honoured.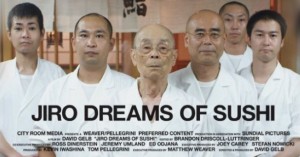 The way they make sushi is short of fantastic: topped with tradition, character, unbelievable hard work and perseverance. It has definitely made it harder for us to think we eat good sushi in Toronto because now we certainly know the rice has to be at room temperature, the seaweed fanned and the fish not watery. Should I mention the 45 minute massaged octopus?
Jiro made sushi for 75 years from early morning till late at night and he still dreamed of sushi and ways to improve it, hoping he would have some more years to take his dream to a higher level. Lucky to have lived his dream, this wonderful man was modest in his beaming pride, something I have never seen captured on camera. That finesse, plus candid memories of the two brothers and trips to the biggest fish market in the world make this documentary unique.
Jiro reminded me of my grandfather and I am happy that his legacy will be passed on to generations; thanks to this beautiful documentary there are many out there who will remember him. If I ever get to visit Tokyo I just hope I have enough time in advance to make a reservation at Sukiyabashi Jiro and live a legend.