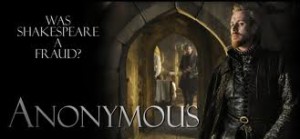 130 min  –  Drama | Thriller
Director:  Roland Emmerich
Writer: John Orloff
Stars: Rhys Ifans, Vanessa Redgrave and David Thewlis
A political drama "advancing the theory that it was in fact Edward De Vere, Earl of Oxford who penned Shakespeare's plays;  set against the backdrop of the succession of Queen Elizabeth I", as well as the Essex Rebellion.
Many hypothesis are there to presume that Shakespeare, the one we know, is not the author of the magnificent masterpieces we've been studying or enjoying for centuries. And given the little History has for us to that respect, all these theories make sense, although none has been proven beyond a shadow of doubt;  from this point of view the movie does not stand on solid grounds, but chooses the most flamboyant of them as focal point.
The stories within are intricately fabricated and quite shocking, I am sure they stunned or upset many. They are meant to. The costumes and set are to propel you in the 16th century, with its flavour, decay, and rotting figures, hunger and immense discrepancy between the rich and the poor.
It's a beautiful movie, very well done, it kept me awake a few nights after. Not for children, not for grown-ups who do not relish history and literature, highly debatable for those who do(I've seen some filled with hatred reviews out there), however, even after knowing the plot, and the outrageous denouement, I would still watch it again.