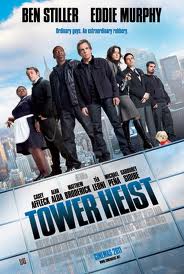 104 min – Action | Comedy | Crime
4 November 2011 (Canada)
Director: Brett Ratner
Writers: Ted Griffin (screenplay),
Jeff Nathanson(screenplay)
& 3 more credits
Stars: Eddie Murphy, Ben Stiller, Alan Alda, Matthew Broderick, Casey Affleck, Michael Peña, Téa Leoni, Judd Hirsch
This movie is hilarious. You have to watch it. We got it and thought to play it in the background whilst we were doing our stuff on our laptops but it didn't work that way. I laughed with tears and did not pause it for anything. I consider it the male version of Bridesmaids, with an added purpose.
I do not know what is it with thieving movies that enchants us, especially where the thieves get away and enjoy their millions; this kind of plot never seems to get old or obsolete.
I found Tower Heist a lot more upbeat than Mission Impossible 4 and way funnier. Kids might not enjoy the vile language, but teenagers and grown-ups will have a blast.