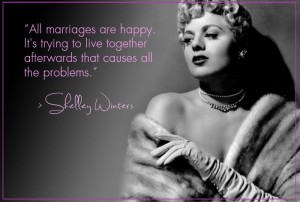 "I was so cold I almost got married."
— SHELLEY WINTERS
This quote is the quote of the day from Page-A Day Calendars for Women Who Do Too Much.
This quote refers to quick fixes that can have disastrous effects; how many of us still get married for the wrong reasons, or take all sorts of rushed decisions because it is the easiest thing to do, not the rational or right thing to do. The expression "sleep on it" must have come from something similar.
<< Shelley Winters (August 18, 1920 – January 14, 2006) was an American actress who appeared in dozens of films, as well as on stage and television; her career spanned over 50 years until her death in 2006. Winters won two Academy Awards for her acting in The Diary of Anne Frank and A Patch of Blue, and is also remembered for her roles in A Place in the Sun (Oscar-nominated for Best Actress), The Big Knife, Lolita, The Night of the Hunter, Alfie, and The Poseidon Adventure (Oscar-nominated for Best Supporting Actress).
Winters was born Shirley Schrift in St. Louis, Missouri, the daughter of Rose (née Winter), a singer with The Muny, and Jonas Schrift, a designer of men's clothing. Her parents were Jewish; her father emigrated from Austria, and her mother had been born in St. Louis to Austrian immigrants. Her parents were third cousins. Her family moved to Brooklyn, New York when she was three years old. Her sister Blanche Schrift later married George Boroff, who ran The Circle Theatre (now named El Centro Theatre) in Los Angeles. Winters studied at The New School in New York City.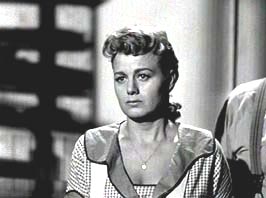 As the New York Times obituary noted, "A major movie presence for more than five decades, Shelley Winters turned herself into a widely-respected actress who won two Oscars." Winters originally broke into Hollywood as "the Blonde Bombshell", but quickly tired of the role's limitations. She washed off her makeup and played against type to set up Elizabeth Taylor's beauty in A Place in the Sun, still a landmark American film. As the Associated Press reported, the general public was unaware of how serious a craftswoman Winters was. "Although she was in demand as a character actress, Winters continued to study her craft. She attended Charles Laughton's Shakespeare classes and worked at the Actors Studio, both as student and teacher." She studied in the Hollywood Studio Club, and in the late 1940s she shared an apartment with another newcomer, Marilyn Monroe. >> (Wikipedia)