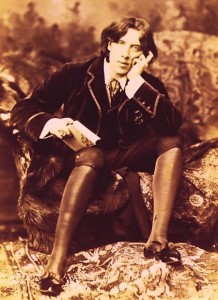 To live is the rarest thing in the world. Most people exist, that is all.
Each of the professions means a prejudice. The necessity for a career forces everyone to take sides. We live in the age of the overworked, and the under-educated; the age in which people are so industrious that they become absolutely stupid.
Everybody who is incapable of learning has taken to teaching.
When a man has once loved a woman, he will do anything for her, except continue to love her.
Between men and women there is no friendship possible. There is passion, enmity, worship, love, but no friendship.
Some cause happiness wherever they go; others whenever they go.
The best way to make children good is to make them happy.
It is better to be beautiful than to be good, but it is better to be good than to be ugly.
I have found that all ugly things are made by those who strive to make something beautiful, and that all beautiful things are made by those who strive to make something useful.
 How clever you are, my dear! You never mean a single word you say.
Education is an admirable thing, but it is well to remember from time to time that nothing that is worth knowing can be taught.
Work is a refuge of people who have nothing better to do.
Ordinary riches can be stolen, real riches cannot. In your soul are infinitely precious things that cannot be taken from you.
Keep love in your heart. A life without it is like a sunless garden when the flowers are dead.
A man can be happy with any woman, as long as he does not love her.
It's absurd to divide people into good and bad. People are either charming or tedious.
Imagination is a quality given a man to compensate him for what he is not, and a sense of humor was provided to console him for what he is.
She wore far too much rouge last night and not quite enough clothes. That is always a sign of despair in a woman.
Experience is the name we give to our mistakes.
The pure and simple truth is rarely pure and never simple.
Morality is the attitude we adopt toward people whom we personally dislike.
I never approve, or disapprove, of anything now. It is an absurd attitude to take towards life. We are not sent into the world to air our moral prejudices. I never take any notice of what common people say, and I never interfere with what charming people do.
Always forgive your enemies — nothing annoys them so much.
I am not young enough to know everything.
Talk to every woman as if you loved her, and to every man as if he bored you, and at the end of your first season you will have the reputation of possessing the most perfect social tact.
One should not be too severe on English novels; they are the only relaxation of the intellectually unemployed.
I can't help detesting my relations. I suppose it comes from the fact that none of us can stand other people having the same faults as ourselves.
What is a cynic? A man who knows the price of everything and the value of nothing.
"Oscar Fingal O'Flahertie Wills Wilde (16 October 1854 – 30 November 1900) was an Irish writer and poet. After writing in different forms throughout the 1880s, he became one of London's most popular playwrights in the early 1890s. Today he is remembered for his epigrams and plays, several of which are widely considered masterpieces, as well as his feud with the 9th Marquess of Queensberry, who Wilde had privately prosecuted for libel as a result of the Marquess accusing Wilde of sodomy, then a crime. When detectives hired by the Marquess uncovered that Wilde had in fact had sexual relations with men and boys, he ended up being imprisoned following a sodomy conviction. His imprisonment, which included hard labour, had devastating effects on Wilde's heath and spirit but also produced one of his most spiritual works, De Profundis, an epistle written to the son of the Marquess and a great love of Wilde's, Lord Alfred Douglas. Wilde died young and a Catholic via a conditional baptism; he had long been drawn to Catholicism despite his Anglican upbringing.
Wilde's parents were successful Dublin intellectuals. Their son became fluent in French and German early in life. At university Wilde read Greats; he proved himself to be an outstanding classicist, first at Dublin, then at Oxford. He became known for his involvement in the rising philosophy of aestheticism, led by two of his tutors, Walter Pater and John Ruskin. After university, Wilde moved to London into fashionable cultural and social circles. As a spokesman for aestheticism, he tried his hand at various literary activities: he published a book of poems, lectured in the United States and Canada on the new "English Renaissance in Art", and then returned to London where he worked prolifically as a journalist. Known for his biting wit, flamboyant dress, and glittering conversation, Wilde became one of the best-known personalities of his day.
At the turn of the 1890s, he refined his ideas about the supremacy of art in a series of dialogues and essays, and incorporated themes of decadence, duplicity, and beauty into his only novel, The Picture of Dorian Gray (1890). The opportunity to construct aesthetic details precisely, and combine them with larger social themes, drew Wilde to write drama. He wrote Salome (1891) in French in Paris but it was refused a licence. Unperturbed, Wilde produced four society comedies in the early 1890s, which made him one of the most successful playwrights of late Victorian London.
At the height of his fame and success, while his masterpiece, The Importance of Being Earnest (1895), was still on stage in London, Wilde had the Marquess of Queensberry, the father of his lover, Lord Alfred Douglas, prosecuted for libel, a charge carrying a penalty of up to two years in prison. The trial unearthed evidence that caused Wilde to drop his charges and led to his own arrest and trial for gross indecency with other men. After two more trials he was convicted and imprisoned for two years' hard labour. In 1897, in prison, he wrote De Profundis which was published in 1905, a long letter which discusses his spiritual journey through his trials, forming a dark counterpoint to his earlier philosophy of pleasure. Upon his release he left immediately for France, never to return to Ireland or Britain. There he wrote his last work, The Ballad of Reading Gaol (1898), a long poem commemorating the harsh rhythms of prison life. He died destitute in Paris at the age of forty-six." – (Wikipedia)