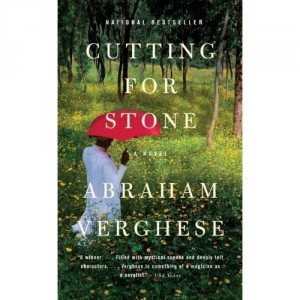 'Cutting for Stone (2009) is a novel written by Ethiopian born medical doctor and author Abraham Verghese. It is a saga of twin brothers, orphaned by their mother's death at their births and forsaken by their father.'
Abraham Verghese, MD, MACP, is Professor for the Theory and Practice of Medicine at the Stanford University School of Medicine and Senior Associate Chair of the Department of Internal Medicine.
The term Cutting For Stone as depicted in the paintings of Bosch and Bruegel, was a surgical technique used in the middle ages for extracting the "Stone of Madness". It may have been mostly fake, and it didn't work. Despite the advancement of knowledge, effective medical treatment, less than fifty percent of sufferers receive treatment today. Many experience worse fates than people with these illnesses thirty and forty years ago.
The title is a multiple metaphor as the last name of the main characters (twins and biological father) is Stone.  Cutting for Stone is also part of a  line in the Hippocratic  Oath: 'I will not cut for stone, even for patients in whom the disease is manifest; I will leave this operation to be performed by practitioners, specialists in this art.'
Initially you are scared by the length of the book and the beginning seems rather dull: a doctor is reminiscing over his life and starts with his birth, which he makes a big deal of. Great, we're all important, and I am positive no one remembers their birth. If you get past that, you will enjoy the rest and get wrapped in it little by little.
The main characters come from India and their backgrounds are described but not lingered upon. The shine comes from Ethiopia. Not my first encounter with this beautiful country inhabited by heartfelt people suffering poverty and atrocities beyond belief. (Sweetness in the Belly is another captivating book not written for the sake of writing, that I warmly recommend.)
Cutting for Stone is a family drama, similar to The Kite Runner in the way it is told and the strong emotions it generates. There is so much loss, poverty, sacrifice, love, kindness, sincerity and beauty in human nature, that one cannot help being overwhelmed. I cried.
The plot is artfully crafted, you are being kept on your toes as secrets are revealed no sooner or later than necessary.
Maybe the prayers and God sent signs that appear here and there and are attributed major meanings could seem ridiculous or farfetched to some people; they belong to the story of one family who lives on a soil constantly torn and saturated with religion, they are to be taken as such.
This is the book of a proud, dignified person who fearlessly imprints the same traits in his favourite characters: 'It was difficult to dislike a man who bravely suffered physical pain and managed to retain his manners'(Gosh after untwisting Colonel Mebratu's volvulus). One benefits so much from the medical descriptions and explanations: I did not find them boring, uninspired or too long, but educational and interesting. You can definitely recognise the medical background and be happy for it.
Hema and Gosh are the parents everyone wants, where Hema renews her license on marriage every year because it is so hard to promise forever and keep your promise. Thomas Stone is the unreachable, the genius who cannot step out of his existential cast but is eventually admirable in his actions. The twins, Shiva and Marion, who form an inseparable ShivaMarion, a potent being who survives all evil, are the central part, the core, the story being told by Marion.
There are Matron, Rosina, Sister Mary Joseph Praise, Genet, and Tsige, the Missing(another relished metaphor) hospital. There is Ethiopia that you come to feel and love with its Emperor Selassie and Addis Ababa, once a cosmopolitan city, majestically depicted.
I refuse to describe the plot, so many reviewers have done it already, and stripped the book of delightful moments. Please enjoy the turns of events and the charming surprises, learn from the losses; cheer and cry as I did, discover and be reminded of the good in people, of the balance of life that always has a way to even out, no matter how impossible that seems at the time…
In Ethiopia, Marion says, patients assume that all illnesses are fatal and that death is expected, but in America, news of having a fatal illness 'always seemed to come as a surprise, as if we took it for granted that we were immortal'…
If you wish to purchase this book from Amazon and support allwords.ca at no extra cost to you please click on the link below.