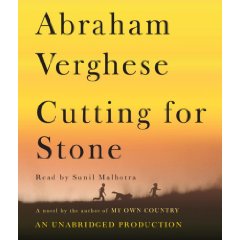 Cutting for Stone (2009) is a novel written by Ethiopian born medical doctor and author Abraham Verghese.
Read by Sunil Malhotra
Random House Audio
19 sound discs (24 hr.)
Sunil Malhotra is a bit of a celebrity "with numerous film and television credits like Fair Game, American Desi, House, M.D., 24, ER, Cold Case, The West Wing, and Half & Half, Dude, Where's the Party?, Happy Feet 2.  Writer, producer, and actor, Sunil received the Earphones Award by AudioFile Magazine for his narration of Abraham Verghese's critically acclaimed epic novel Cutting For Stone, in which he voiced over 70 different characters spanning 4 continents. He has also narrated a growing library of both fiction and non-fiction audio books." (modified quote from Sunil Malhotra's blog)
The voice is nice, inflection great, tonality also. Very soon you get over the fact that it would take forever to listen to the book and you start enjoying the plot. The sequence is easy to follow as the story unveils without too much going back and forth, each event being chronologically disclosed.
You do get sad at the end when you realise it is over. An audio book well done, a great book to listen to.
For the content of the book check the Book Review section.
If you wish to purchase this book from Amazon and support allwords.ca at no extra cost to you please click on the link below.