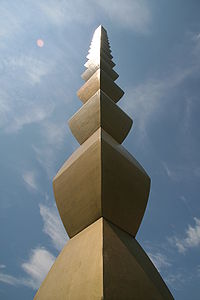 "Create like a god, command like a king, work like a slave."
"When we are no longer children we are already dead."
"Simplicity is not an objective in art, but one achieves simplicity despite one's self by entering into the real sense of things."
Popular Constantin Brancusi works include  Danaide, The Endless Column, and The Kiss.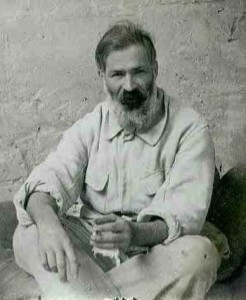 Born 19th of February, 1876, Hobiţa, Romania. " For centuries, the region was known for its rich tradition of folk crafts, particularly ornate woodcarving. It was largely the simple, geometric patterns used by Romanian folk craftsmen that shaped the style of Brancusi's mature works. His parents, Nicolae and Maria Brancusi, were poor peasants, and little Constantin herded the family's flock of sheep from the age of seven. Even as a very young child, he showed remarkable talent for carving tools and other objects out of wood. He was also strong-willed and determined; to escape the bullying of his father and older brothers, he often ran away from home. At the age of nine, Constantin left his native village to work at various menial jobs in Tîrgu-Jiu, the nearest large town. At 13, he came to Craiova, capital of the neighboring Dolj County, where he worked at a grocery store for several years. When Constantin was 18, his employer, impressed by his talent for carving, raised the money to enroll him in the Craiova School of Crafts. Here Constantin indulged his love for woodworking and, since he had received little formal education, taught himself to read and write.
After graduating with honors in 1898, Brancusi entered the Bucharest School of Fine Arts, where he received rigorous academic training in sculpture. As a student he was hardworking as well as talented, and he quickly distinguished himself. One of his earliest surviving works is a masterfully rendered écorché, a statue of a man with the skin removed to reveal the musculature. Though just an anatomical study, it already foreshadowed the sculptor's later efforts to reveal the essence rather than merely copy outward appearances.
Bored with Bucharest, Brancusi traveled to Munich in 1903, and from there to Paris. In Paris, he found a community of artists and intellectuals brimming with new ideas and welcoming him into their circle. After spending two years in the workshop of Antonin Mercié, another academician, Constantin was invited to enter the workshop of Auguste Rodin. This was a tremendous privilege, especially since Brancusi had long admired the eminent French sculptor and was greatly influenced by his work. But, always independent, Brancusi left Rodin's side after only two months, saying: Nothing can grow under big trees.
His works brought Brancusi growing popularity in France, Romania, and the United States. Wealthy collectors, most notably the lawyer John Quinn, were buying his sculptures. Magazines and art reviews published praiseful articles. In 1913, he was simultaneously exhibiting in the Salon des Indépendants in Paris and at the Armory Show in New York. In 1916, Brancusi moved into a studio in the Impasse Ronsin, where he would live and work for the rest of his life. In the meantime, he had become close with many of the intellectuals and artists who lived in Paris before and during World War I. The poet Ezra Pound and author Henri Pierre Roché acted as his confidants, spokesmen, and biographers throughout his life. For a time, Brancusi worked closely with the Italian artist Amedeo Modigliani; poet Guillaume Apollinaire and artists Pablo Picasso, Henri Rousseau, and Fernand Léger were among his other associates. "
Constantin Brancusi died on March 16, 1957, Paris, France age 81.